$ 199.95
$ 0.00
Antique Copper Mug - Limited Edition Four-Pack Wood Collectors Box
Limited-Edition Antique Copper Moscow Mule Mug
Gorgeously Aged
VINTAGE COPPER MUG WITH ANTIQUE FINISH
Just like all pieces made of pure copper—from a penny to the Statue of Liberty—our mugs can develop a beautifully aged antique finish or gorgeous gray-green patina over time. (Of course, you can also decide to keep the surface shiny with a
copper cleaner
, if you prefer.) But if you want that vintage, bronze-tinted look right out of the box, this is the mug for you.
This limited-edition version is made of 100% pure copper with a welded, heavy-gauge handle; the same craftsmanship as all of our Moscow Mule mugs. However, we've taken it a step further by creating an antiqued finish, then sealing it in with a protective lacquer coating. The hammered texture adds to its old-world charm, inviting many new rounds of great cocktails enjoyed while relaxing at home or lifted up to celebrate with friends and family.
If you choose to have this mug engraved to commemorate a special occasion or personalize a gift, it will come out with a uniquely eye-catching, two-toned effect. For this mug, only the body can be personalized, not the bottom.
WHAT'S INCLUDED WITH THIS SET?
Ideal for your own use or selection as a cherished gift, the set includes:
Limited-edition copper Moscow Mule mug with hammered texture and antiqued finish
Microfiber bag for storage without scratches
Four Moscow Copper Co. 100% real cork coasters to protect surfaces from condensation
Minute Mule recipe book for drink inspiration
Wooden collector's box with latch closure
ABOUT THE ANTIQUE MUG
This special edition, produced in limited quantities, features:
16-ounce capacity that's ideal for a well-balanced cocktail
100% pure copper for an authentic drinking experience
Antique finish that mimics the look from years of use
Artificial lacquer to protect the antique finish
Hammered texture
Welded heavy-gauge handle
Optional engraving, which will produce a unique two-tone effect
Vintage
ANTIQUE LOOK FOR A STORIED OBJECT
Our mugs are designed to be filled with good drinks and raised in good company for years—and generations—to come. It's part of the legacy behind our name and story. This take on our high-quality copper mugs leans into our history to capture the timeless, historic look of a beautifully worn mug.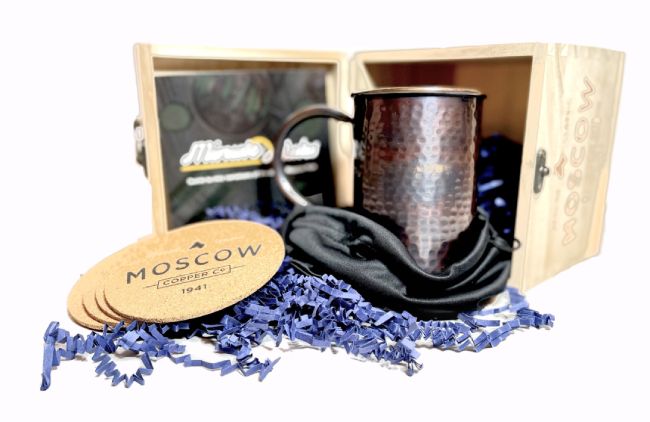 Loved the box it came in and the engraving was perfect -K
FEATURED ON