$ 55.95
$ 108.95
Build Your Own Gift Box: Set of One, Two or Four Mugs
Build your own Moscow Copper Custom Mug Gift Box
Drink Authentically
THE BEST MOSCOW MULE MUGS GIFT BOX
Our Moscow copper gift set is the perfect way to show your loved ones how much you care. This beautiful set of two mugs comes in a luxurious gift box, making it a truly special present.
Each mug is made of the highest quality copper, ensuring that your recipients can enjoy their drinks for years to come. The classic design is perfect for any cocktail enthusiast, and the mugs are sure to add a touch of elegance to any home bar.
So raise a glass and make a toast – with our mug gift set, you can be sure that your loved ones will always remember you fondly.
HOW UNIQUE IS OUR COPPER MUGS GIFT BOX?
Our custom-engraved copper mug gift box is truly one-of-a-kind. There is no other gift box on the market that combines the luxury of copper with the personalization of engraving and precious additional items.
And when it comes to serving up a refreshing Moscow Mule, only a solid copper mug will do, and Moscow copper is simply the best that you can find. Our mugs are made to last with classic craftsmanship and extreme attention to detail.
Each box is handmade from start to finish, and the additional items are of state-of-the-art quality, making it a truly unique gift.
We pride ourselves on being the creators of the original Moscow Mule glasses. So when you're looking for the perfect gift for the Moscow Mule lover in your life, our copper mug gift set is what you need.
YOU WILL LOVE OUR MOSCOW MULE MUGS SET FOR:
There are a lot of reasons to love our copper mugs, but here are just a few.
First, confidence. Whether you're taking on the challenge of learning to make cocktails or just want to drink out of a quality cup, our Moscow Mule mugs exude confidence.
Second, comfort. Our copper cup is so comfortable to use that you'll want to use it every day. It's lightweight and easy to grip, making it the perfect size for any hand.
Also, we only focus on quality and you're sure to acquire a premium quality product that will last a lifetime. The Moscow Mule has had a recent resurgence in popularity, but it's been a classic for much longer. And our original copper Moscow Mule mugs are the emblem of elegance.
Finally, timelessness - Our copper cup is built to last. The Moscow Mule mug is here to stay, and so are your excellent gifts. With its classic design and enduring quality, our copper cup will be around long after the fad has passed.
MOSCOW COPPER MUGS GIFT BOX ITEMS
Looking for a unique and luxurious gift? Look no further than our copper mug gift box. This eye-catching box includes a single copper mug, perfect for enjoying your favorite drink. But that's not all - the box also comes with other items that you can add as an option.
MULEHEAD RECIPE BOOK
There is no better way to enjoy this superb copper cup than with a strong but beautiful Moscow Mule, a ginger beer, or any other ice-cold drink.
And if you don't have any original ideas, a mulehead recipe book includes step-by-step instructions for making the perfect Moscow Mule and endless other cocktails for a special occasion or party. Needless to say, it will also add some personalization to your housewarming party or Christmas night.
PEAK CRUSHED ICE TRAY
Thanks to its thermal properties, copper can keep drinks cold longer than other materials. For this reason, a copper mug makes a great gift idea for someone who can't skip his favorite cocktail or a bar owner that wants to treat his friends or special customers.
And if you really want to make a lasting impression, you should add a Peak crushed ice tray to the copper mugs gift box. This way, they'll always have a frosty beverage on hand - no matter the occasion.
ROLITE MIDAS TOUCH METAL POLISHING CREAM
When you purchase a copper mugs gift box, a Rolite Midas Touch Metal Polish is a fantastic option to add. This tray is the perfect way to keep your Moscow Mule mug clean and shining like new.
Copper mugs have become a popular choice for both home and bar décor, and it's paramount to keep the metal shiny and polished.
When you add a metal polish to the box, you're giving the gift of easy care and upkeep. Copper mugs require minimal care to keep them looking their best, but the polish makes it even easier and keeps it elegant.
The resulting shine will make your recipient's Moscow Mule gift set look even more luxurious.
Copper mugs require special care to keep them looking their best, and a care kit includes everything you need to clean and polish this perfect gift, including a polishing cloth and a natural cleaner.
Adding a care kit to your gift box is the perfect way to show that you know how to put the finishing touches on a present. In the care kit, you will find 2 microfiber towels and bags, nylon gloves, and a tube of Rolite Midas Touch Metal Polishing Cream
.Moscow mule mugs are easy to clean, but with the care kit, you know your recipient will always look gorgeous while drinking.
There's nothing like a Moscow Mule on a hot summer day. The refreshing combination of vodka, ginger, lime, and seltzer is the perfect way to beat the heat. And our cocktail syrup made of fresh ginger, cane sugar, and lime juice couldn't make a Moscow Mule any more superb.
We're confident your husband, family member, or friend has never had a better drink than this, so don't hesitate and add the syrup to this special gift set.
Not only a copper mule mug is stylish and unique, but it also keeps drinks cold for longer. Plus, they make a great conversation starter. However, to really impress your recipient, add a double-sided jigger to the gift set.
Jiggers are essential for measuring quantities of alcohol, so your friends will be able to make a perfect drink every time.
Whether you're celebrating a birthday, housewarming, or simply showing your appreciation, Moscow mule mugs with a double-sided jigger are the definition of an outstanding gift box.
ADD CUSTOM ENGRAVING - TWO PACK
If there's something that will certainly add some personality to this already excellent mug gift set, it's the custom engraving on the mugs.
This thoughtful touch will make the recipient feel extra special, and it will also help them to remember the occasion for years to come. There are endless engraving possibilities on the mule mugs, so take your time to choose something that is meaningful.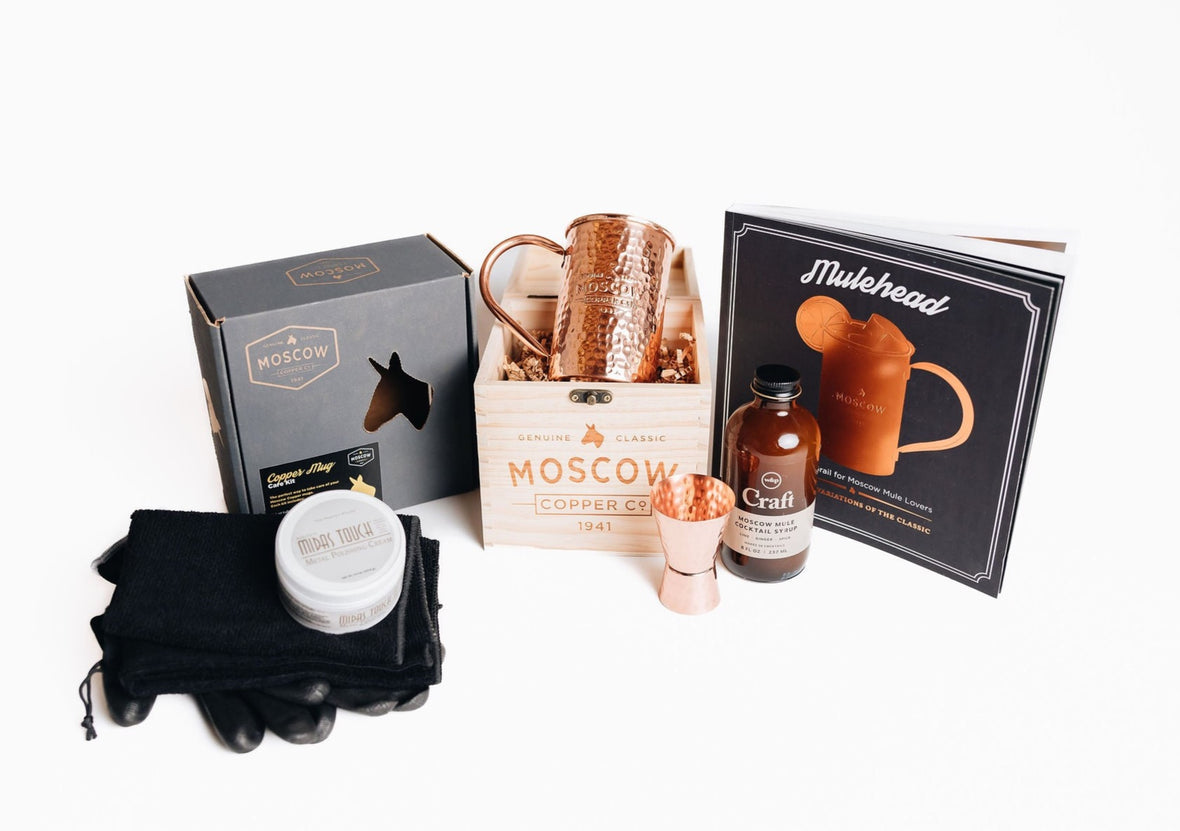 There are endless reasons to fall in love with our copper mugs
FEATURED ON